VR Warehouses




Kristian Ekholm & Paula Lehtonen

:

Makasiinit palaa – Return of the Warehouses

The audiovisual installation by sound designer Kristian Ekholm and media artist Paula Lehtonen was inspired by its venue, the ruined former railway warehouses belonging to state railway company VR. The piece was designed to remind residents of Helsinki's recent history.

The changing colours of the installation emulate the tones of a sunset in May. At close quarters, the whole nature of the installation is revealed, with a sound element consisting of soft music.

The old goods yard that survives in central Helsinki is a monument to the intense days of early industrialisation over a century ago. The warehouses later became a centre of grassroots culture, and has now been taken over by large-scale cultural events and the business world. The artists wanted to bring the building once more into the limelight.

The realisation of the installation is supported by Konstsamfundet.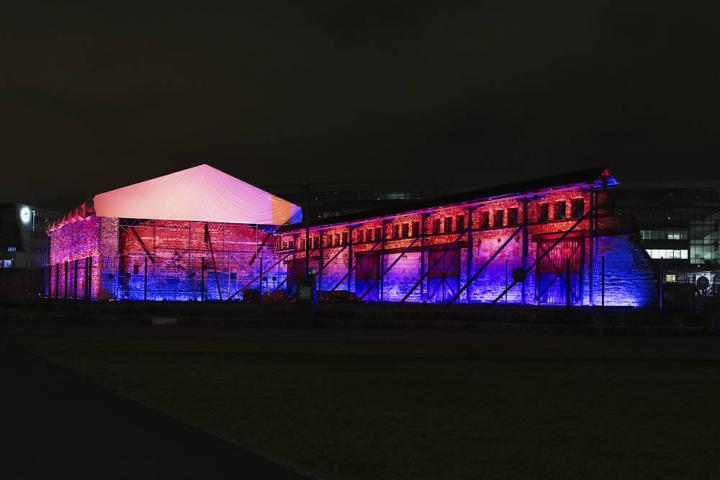 Performance time: Daily from 5 pm to 10 pm
Paula Lehtonen is a Helsinki-based media artist who creates spatial video installations and electronic art. Recent exhibitors of her work have included KUMU in Tallinn and Aboa Vetus & Ars Nova in Turku. Lehtonen graduated with a degree in fine arts from Tampere University of Applied Sciences in 2008 and from the Media Lab of the Aalto University School of Arts, Design and Architecture in 2013.
Kristian Ekholm is a Helsinki-based sound designer who graduated from the Department of Lighting and Sound Design of the Theatre Academy in Helsinki in 2008, and has also studied audiovisual media culture at the University of Lapland. Ekholm is actively involved in the performing arts, through work with companies such as the Viirus Theatre. Ekholm received an award for his stage work at the centenary gala of the Swedish Theatre Association in Finland in 2013, and an award for Best Sound Design at the Thalia Gala in 2010.